Adaptive Housing
Adaptive/Expansive Housing is a human community-powered system that is designed to accommodate a range of cohabitation scenarios, as well as fostering genuine relationships between housed and unhoused, high- and low-income residents, owners and renters. The combinatory system operates not unlike a sequence of hybrid architectural DNA that interlaces living and dwelling functions by means of a dynamic human-powered algorithm: building clusters evolve via accretion and reconfiguration, determined by choices and decisions made by members of the community over time, while the overall composition can adjust (attune) to the scale and relative massing of a given neighborhood, in order to create contextual scenarios, situations that are situated and reference vernacular forms.
February, 2021
Selected honorable mention in LA Low-rise Competition
Similar to models of "Open Building", the arrangement of a series of modular-identical housing blocks (shown here with stick frame construction, could be cross-optimized for manufactured housing units for on-site deployment or hybrid construction systems offers user­ occupants (inhabitants) micro­capacity to resize their dwelling units through repartitioning per a sequence of possible scenarios of reconfigurability.
This general capability of all the people living together in a neighborhood to jointly reconstruct it over time- through semi-structured and largely autonomous tiny and small scale market led decision making procedures- enables democratic community formation. The Adaptive house offers more than housing alone; it is an attitude about how to construct architecture as interlaced building and landscape in support of positive urban livelihoods and healthful dwelling in place.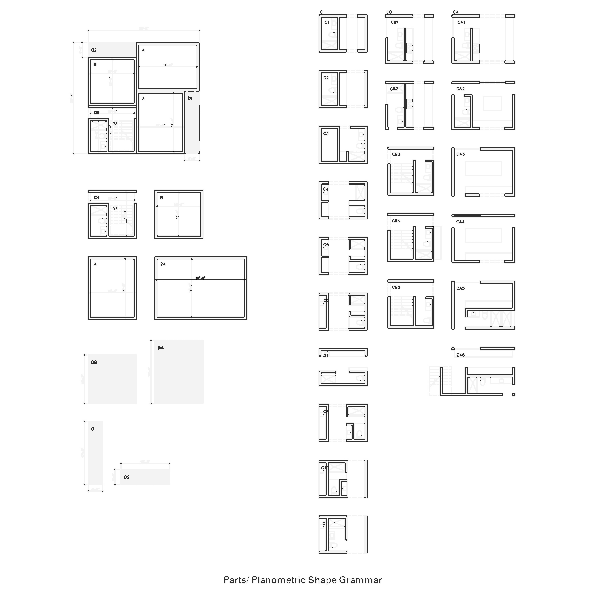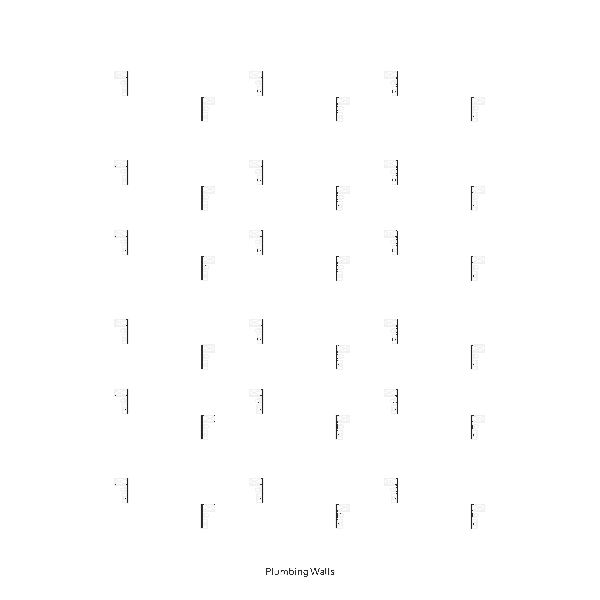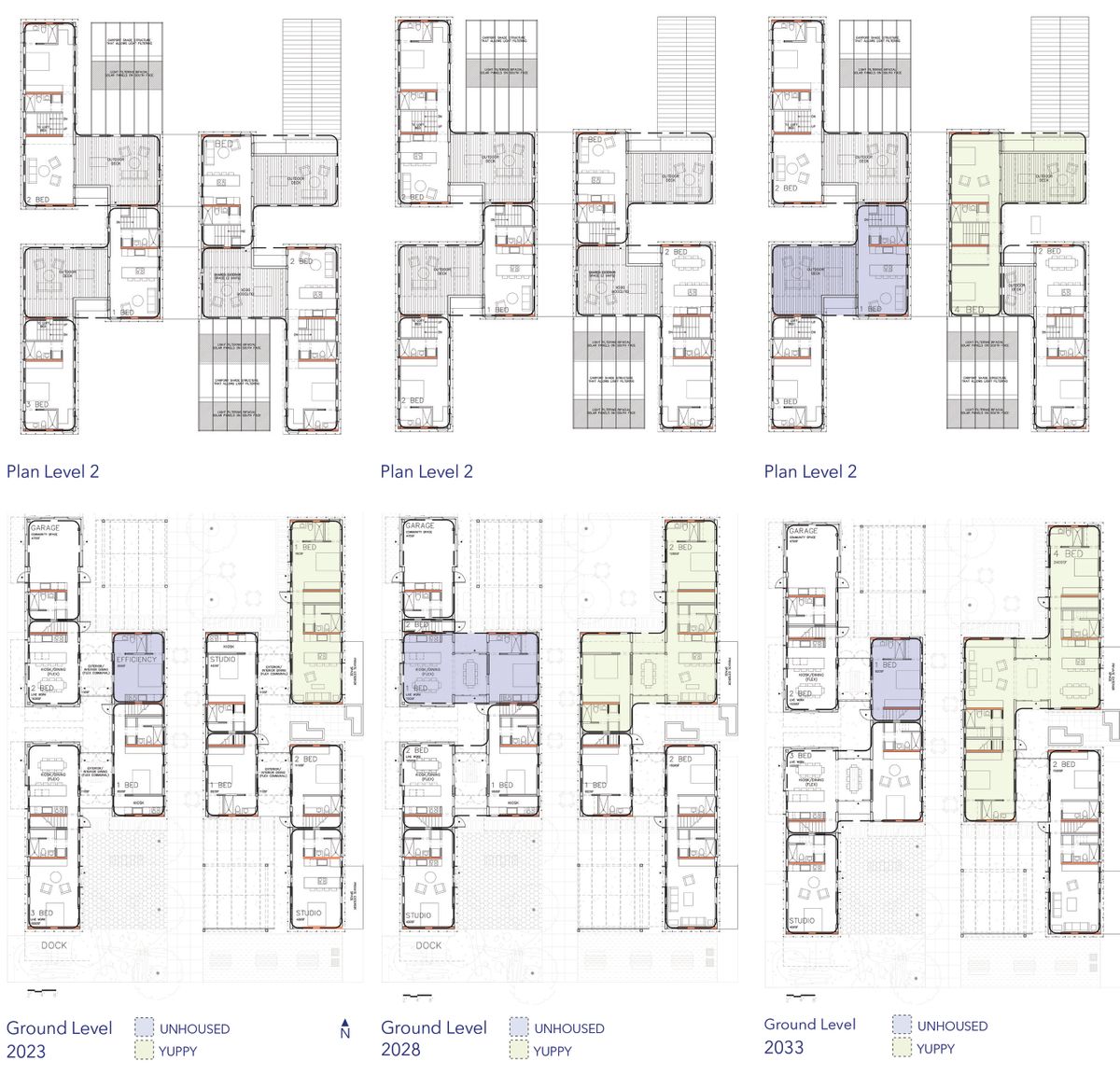 The design follows a set procedure of cross-orienting standard modular buildings relative to two intercoordinated roofing geometrics (roofscapes) and a secondary living green screen double wall-cum-roof system. Thereby a general purpose solution can be adapted for optimal environmental performance on even non-optimal sites, while simultaneously supporting not only healthy ecosystems and microbiomes for people who live around and interact with biodynamic soil, plants and other species, but also psychological and emotional wellness (biophilia).
Key building performance features include use of bifacial solar photovoltaics (serving as shading devices while enabling distributed renewable energy production and community micro-grids); breathable building skins engineered for ventilation and filtration (special attention to human factor design of indoor and outdoor air quality); use of natural earthen plasters and low maintenance techniques (instead of "no maintenance") to encourage resident-occupants to build tangible connections with their homes by maintaining them affordably, imbuing collective spaces with a sense of caring. Interweaving building and landscape conditions helps promote active lifestyles.
In a pattern consistent with most U.S. cities, the affordable housing stock in Los Angeles is grossly insufficient to meet demand. When pockets of affordable housing do exist, they are often located in parts of the city that lack equitable access to services and public infrastructure as a result of decades of racist land-use policy and disinvestment. These disparities are most evident in LA's eastern and southern neighborhoods, which are home to the communities of color often left out of LA's housing innovations. While our project has the potential to be deployed in all neighborhoods, we developed it using South LA as context, ensuring that future advances in housing development don't leapfrog the communities that would benefit most, or, worse, displace those residents altogether.
Innovating multi-unit housing in Los Angeles means finding new ways to bring people together: the future revolves around harmonious mediation of an abundance of lifestyles and life stages, jointly with not only buildings, but also indoor-outdoor spaces, community hubs and positive public zones that help bring balance to a technology-saturated world and restoration to interhuman ecologies that are in stress. Neighborhoods need space to breathe.